Announcement
IPSA inter-congress conference will be held at Luxembourg, at Jean Monnet Building, European Commission, on 18-20 March 2010. The general conference theme is: Is There a European Model of Governance? A Comparative Perspective.


IPSA RC3 supports the following session. Active participation is welcome.


Session No. 6 Revitalizing the Europeanisation Research Agenda (BI)*


co-Chairs: Robert Harmsen (University of Luxembourg) and Didier Georgakakis (University of Strasbourg)


Saturday, March 20, 2010. Room M3. 2:00pm-5:00pm

Papers:


Bottom-up Europeanization Exposed (Darren McCauley, Queens University Belfast)

Environmental Governance In Southern Europe: Exploring EU Drivers And Domestic Modulators (Ana Mar Fern?ndez, Autonomous University of Barcelona; Nuria Font, University of Barcelona; Charalampos Koutalakis, University of Athens)

Europeanisation or Americanisation?: Charting the Influences and Trajectories of European Cartel Policy (Lee McGowan, Queen's University Belfast)

Europeanisation and/or Globalisation ? Which Strategy for Regional Paradiplomatic Activities? (Malin Stegmann McCallion, Karlstad University)

Bringing the Actors Back In. Europeanization and Domestic Policy Change: The Case of the European Employment Strategy in Italy and France (Paolo Graziano R., Bocconi University)

Europeanization through European transnational projects (Rosa Sanchez Salgado, SciencesPo Paris)

For registration and other details, see the conference website at:
http://www.luxembourg2010.org/
21st World Congress Workshop, Santiago, Chile, on 12-16 July 2009

The programme of the IPSA RC3 (European Unification) related sessions are as follows.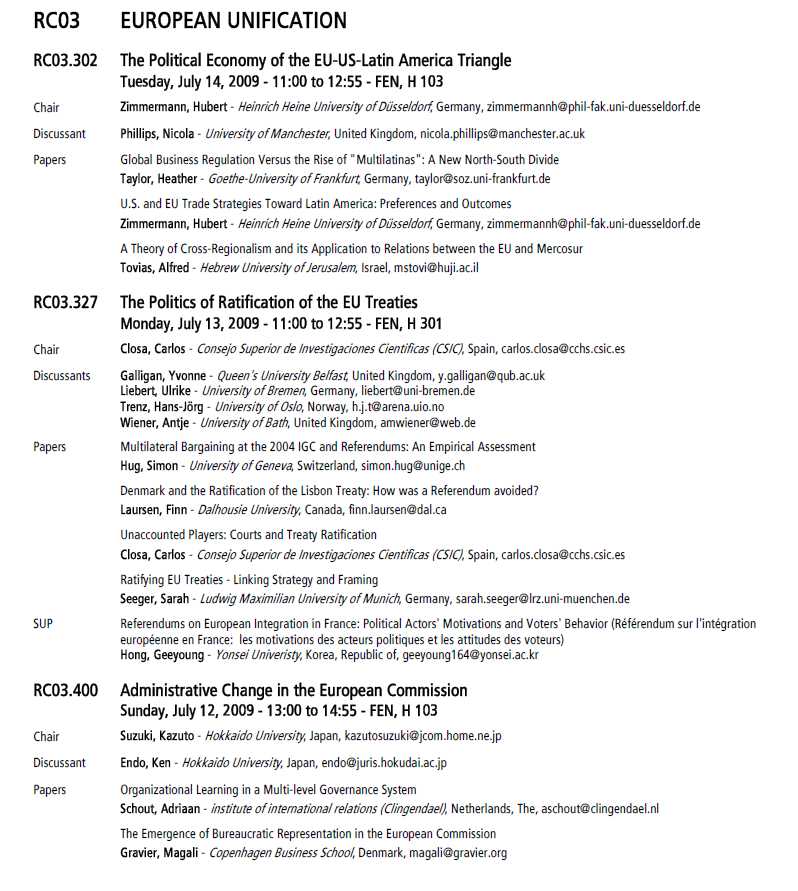 Please contact Ken Endo for inquiry.
endo@juris.hokudai.ac.jp, ken.endo@eui.eu

Inter-Congress Workshop, Sapporo, scheduled on 5-6 Sept. 2008

The final programme of the IPSA RC3 workshop is as follows.


International Symposium of the
IPSA RC-3 (European Unification)

Sapporo, 5-6 September 2008
Venue: Kita-Sky Building, 8 F, Kita-7, Nishi 5, Sapporo
http://www.juris.hokudai.ac.jp/GSRB/english/e-access.htm


September 5th

15:00-15:30 Registration

(Those who need reimbursement should show up for paper work)

15:30-15:40 Welcome Remarks

| | | |
| --- | --- | --- |
| 15:40-18:00 | | A Post-Integration Europe? European Unification after the Lisbon Debacle |

-
Dr Ken Endo (Hokkaido Univ., IPSA-RC3 president): A Post-National Citizenship? The Politics of Membership in Europe
-
Dr Min Shu (Fudan Univ., IPSA-RC3 executive): The 2008 Irish Referendum of the Lisbon Treaty
-
Dr Kyriaki Topidi (Univ. of Lucerne, IPSA-RC3 executive): Re-defining the Principles of European Identity: Turkey's Westernization as a Test Case
-
Commentator: Dr Toru Yoshida (Hokkaido Univ.)
18:30- Dinner/Reception
September 6th

| | | |
| --- | --- | --- |
| 10:00-12:20 | | Regulatory/Standardisation Politics of the European Union and the World |

(Jointly Organised with Legal-Political Processes Team, Global COE program: 'New Generational Legal & Policy Studies for Plural and Dispersed Control')
-
Dr Kazuto Suzuki (Hokkaido Univ. IPSA-RC3 tresurer): The European Union as Regulatory Empire
-
Dr Tim Büthe (Duke Univ. & Univ. of California, Berkeley): The Evolution of EU Competition Policy: Institutions, Power, and Global Markets
-
Dr Maho Kawagoe (Kamakura Women's University): Air Transport Deregulation in the European Union
-
Commentator: Dr Yuko Suda (Tokyo Univ. of Foreign Studies)
Lunch
13:30-15:30 History of the European Construction (I)
-
Dr Hungdah Su (Academia Sinica, Taiwan): Monnet's Great Design for Europe and Its Criticism
-
Mr. Tomoya Kuroda (graduate school, Keio Univ.): European Integration and Decolonialisation, 1956-1958: A French Perspective
-
Commentator: Mr Yuichiro Miyashita (JSPS/Hokkaido Univ/Sciences po)
16:00-18:20 History of the European Construction (II)
-
Dr Hubert Zimmermans (Cornell Univ.): Unravelling the Ties That Really Bind: The Dissolution of the Transatlantic Monetary Order and the Creation of a European Monetary System, 1965-75
-
Dr Hitoshi Suzuki (Jean Monnet Centre, Keio Univ.): European Integration and Its Social Perspectives 1945-1973
-
Dr Takeshi Yamamoto (Nagoya Univ. of Commerce): The Fortress Europe: The EC against the USSR, the US and Japan, in the early 1970s.
-
Comments: Dr Shuichi Kawashima (Meiji Univ.)

| | |
| --- | --- |
| Secretariat: | Ken Endo |
| | Takumi Itabashi |
| | Yuichiro Miyashita |
A workshop on the past and future of the Franco-German axis will be held on 17 June 2007, Nagoya, Japan. Please register by sending an email to the organiser.

Venue:
room 407, Meieki Garden Building, 1-4-12, Meieki Minami, Nakamura-ku, Nagoya. (http://www.officepark-net.jp/meeting/meeting02.html)
Date:
17 June 2007, 13:30-17:00:



Dr. Ann-Christina Lauring Knudsen:
The Franco-German axis in the formative period of CAP in the 1960s


Dr. Hartmut Mayer:
Merkle-Sarkozy couple? The current and future state of the Franco-German axis

Convenor:
Professor Ken Endo, D.Phil. (Oxon.)
Hokkaido University School of Law, Graduate School of Public Policy
Kita-9 Nishi-7 Kita-ku, Sapporo
060-0809 Japan.
Tel/fax: 81 11 706 3796
endo@juris.hokudai.ac.jp
20th IPSA World Congress & RC3 Sessions at Fukuoka, July 2006

On 9-13 July 2006 in Fukuoka, Japan the International Political Science Association (IPSA) held its 20th World Congress. As part of this Congress, IPSA Research Committee 3 on European Unification ("IPSA RC-3") organized 4 sessions. See for details: http://web.uvic.ca/europe/ipsa-rc3/IPSA/